Serving DeKalb, Aurora, Batavia, Geneva, & Sycamore
Renovating the busiest room in the house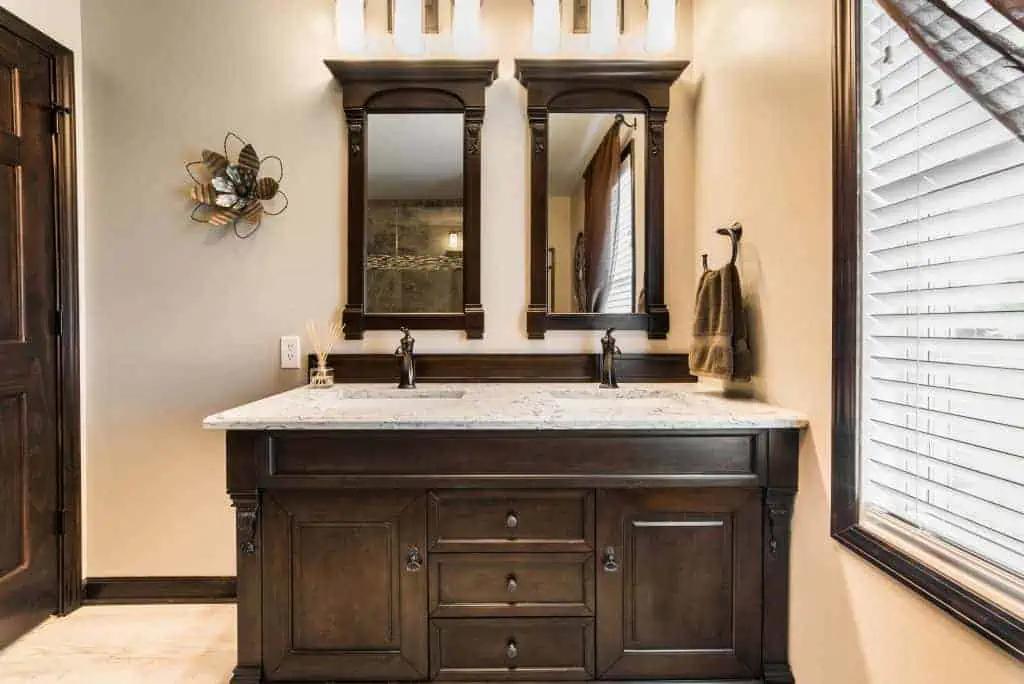 The bathroom is one of the most frequently used rooms in your home, so chances are it needs a refresh. Your bathroom should be a tranquil retreat where you can prepare for the day or unwind before bedtime. If your current bathroom is dark, dingy, or dysfunctional, it may be time to consider a remodel.
There are many reasons why you should overhaul the bathroom in your Geneva and Aurora home. Not only will it help to increase the value of your home, but it'll also allow you to expand the size of your current bathroom, create additional bathroom storage, and improve the energy efficiency in the space. Remodeling your Aurora bathroom also gives you the chance to add your own personal touches by selecting the project's style, design features, and materials.
From Old To New... What Can You Do?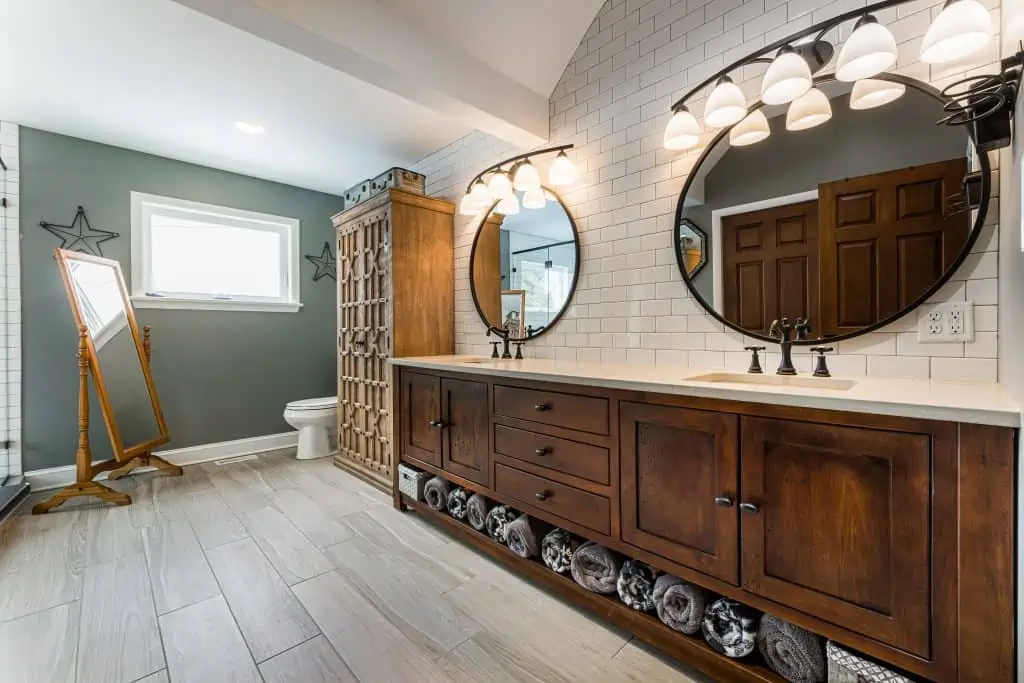 We've all had the same old bathroom for so long, but you can change that! At Ken Spears Construction we specialize in updating bathrooms with modern features and designs. With our contracting help, your space will be more functional while still staying true to what's important - like style preferences or budget constraints.
We know that every family's lifestyle is different which means there are many options in terms of style to choose from when redecorating their washroom! From traditional layouts with white tiles or natural stone walls combined seamlessly within a contemporary feel - our experienced remodeling contractors will work hard so all these decisions fall into place quickly without sacrificing quality whatsoever. You'll love how easygoing this process gets once underway!
What Should You Consider Before Your Hire Bathroom Remodeling Contractor
Before you hire a bathroom remodeling contractor, you should consider:
Style. Do you want to have a bathroom that is modern, traditional, bohemian, rustic, transitional, or another style? Bathroom design ideas for your redesign.
Space and Layout. Do you want to increase the space in your bathroom or change the layout? Maybe you only need a small bathroom to remodel for a better layout.
Bathroom Functionality and Storage. Do you want to add his and her vanities to improve the functionality and storage in your existing bathroom?
Family Needs. Will they listen to your unique family needs like a handicap or accessible bathroom upgrades?
Cabinets Options. What design, finish, and hardware do you want for the cabinets in your new bathroom?
Countertop Options. What design and material do you want in your new bath? You'll also want to think about the maintenance required for each option.
Tub, Showers, or Jacuzzi. Do you want to add a freestanding tub, shower, or Jacuzzi to your bathroom design?
Shower Tile. What style, material, and color do you want for the tiles in your new shower?
Fixtures and Lighting. What style and finish would go best with your other selections.
Flooring. Do you want ceramic or stone tile,  concrete, vinyl, or wood floors in your bathroom? You'll want to think about the required maintenance and durability of each option.
[Read More: Planning an overhaul? Here's What You Need to Know]

How Much Will My Bathroom Remodel Cost?
If you've been thinking about rebuilding the bathroom in your home, one thing that you'll want to consider is how much your project is going to cost. With that in mind, we would like to share cost estimates for a midrange, upscale, and universal design bathroom overhaul so that you can understand the cost for each. These cost estimates come from the Remodeling 2019 Cost vs. Value Report © 2019 Hanley Wood Media Inc. You can download the full report free at www.costvsvalue.com. Please keep in mind that these figures are based on bathroom remodels in the Chicago metro area, so your exact costs may differ based on the scope of the project and the quality of materials you select.
Cost for a Midrange Bathroom Upgrade
If you want to update an existing powder room or guest bathroom, consider the cost for a midrange bathroom rebuild. The total cost includes:
Updating an existing 5 X 7 ft bathroom
Replacing all of the existing fixtures
Installing a 30 X 60-inch porcelain on steel tub with single-lever temperature and pressure-balanced shower control and a 4 X 4 ceramic tile surround
Adding a new standard white toilet, solid-surface vanity counter with integral sink, recessed medicine cabinet, and lighting
Laying a new ceramic tile floor
Placing vinyl wallpaper on each wall
This will cost $26,908. If you decide to sell your home, you can expect to recover $16,301 or 60.6% of your total cost.
Cost for an Upscale Bathroom Modernization
If you're looking to transform your small outdated bathroom into a luxurious master bath, consider the cost for an upscale bathroom overhaul. This overhaul includes:
Expanding an existing 35 sq. ft bathroom to 100 sq. ft
Relocating all fixtures
Installing a 42 X 42-inch neo-angle frameless shower with ceramic tile walls, an accent strip, a recessed shower caddy, and body spray fixtures
Adding a freestanding tub with high-end faucets
Incorporating a dual vanity with a custom drawer base, two sinks, a stone countertop, and two mirrored medicine cabinets with lighting
Creating a compartmentalized commode area with a new toilet and a humid-stat-controlled exhaust fan
Replacing existing fixtures with colored fixtures
Laying a new diagonal ceramic tile floor with a ceramic tile base molding
Incorporating new general and spotlighting
Extending the HVAC to accommodate the new fixtures and adding electric in-floor heating
This will cost $80,433. If you decide to sell your home, you can expect to recover $45,812 or 57% of your total cost
[Read More: 4 Ideas for a Master Bath Remodel]

Aging in Place
Ken Spears is a Certified Aging in Place Specialist and uses his skills to design bathrooms that will be safe and functional for many years to come. Our team incorporates universal design concepts and products in our recommendations to meet your needs over time. Some of the features we use for our aging-in-place remodels include barrier-free showers with adjustable/handheld showerheads, slip-resistant flooring with radiant heating, comfort-height toilets, lever handles, or pedal-controlled faucets, and grab bars.
Cost for a Universal Design Bathroom Remodel
If you want to make your existing bathroom safer and easier to use for your aging loved ones, a universal design bathroom remodel can help you do just that! The cost would include:
Updating an existing 5 X 7 ft bathroom to be wheelchair-accessible and adding a zero-threshold, 36-inch wide door
Installing flat-panel electrical switches at sitting level
Replacing the existing toilet with a comfort height toilet with an elongated bowl and bidet-type seat
Removing the existing bathtub and replacing it with a barrier-free tile walk-in shower with an adjustable shower head, a fold-out seat, a thermostatic mixing valve, and a bi-directional glass door
Laying a new luxury vinyl tile floor with electric radiant heating
Incorporating LED lights, infrared ceiling lights, a night light, and an ultra-quiet vent fan with humidity-sensing controls to space
Installing ceramic tiles on the walls with two contrasting color stripes
Integrating nine towel bars that can support up to 250 pounds
Creating storage that is easy to access from a seated position
This will cost $42,543. If you decide to sell your home, you can expect to recover $24,589 or 57.8% of your total cost
[Read More: Remodeling Plans to Help You Age in Place]
If you've been thinking about remodeling the bathroom in your home, we can help! Our experienced team has remodeled several master baths, powder rooms, and guest bathrooms across DeKalb, Geneva, Batavia, Aurora, and Sycamore.
Featured Home Remodeling Projects
Discover how one family created a barrier-free bathroom with the help of the Ken Spears Construction team in Hinckley, IL.