Handicap Bathroom Remodel
Renovating to Adapt to Changing Needs
The bathroom can present challenges that can be overcome with a handicapped bathroom remodel. If you or someone in your family has limited mobility, full accessibility is essential, especially in your home. Whether changing a current bathroom or adding to the house, Ken Spears Construction has the accessibility solutions to help keep everyone comfortable and safe.
DeKalb and Kane County residents often request handicapped bathroom remodels, and we answer the call. Ken Spears provides bathrooms that are safe and convenient for every family member. Most of the older homes in our community are not built for accessibility and need a design that accommodates the entire family's needs. Our clients' plans are finalized based on their needs, budget, and personal design preferences.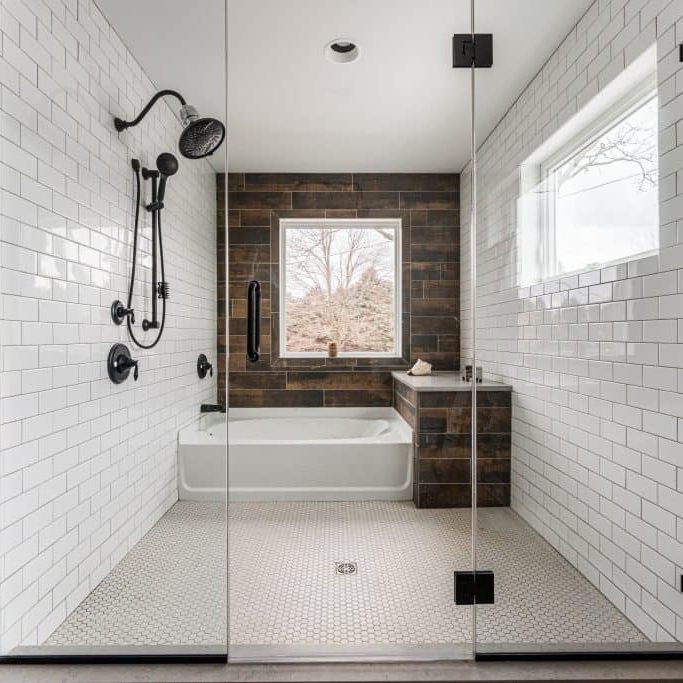 Handicap Bathroom Remodeling Pros
Ken Spears Construction has a team of professionals with the training, tools, and expertise to create a fully accessible, aesthetically pleasing bathroom. As a Certified Aging in Place Specialist, Ken Spears works with his team to design safe and functional bathrooms. Combining universal design concepts and products to ensure safety, we help family members stay at home.
We focus on areas that are important for safety and accessibility, including:
Varied Height Counters

Wheelchair Accessible

Zero Threshold Showers

Lowered Upper Cabinets

Pull out shelves  

Slip-Resistant Flooring

Open Shelving for Easy Access to Needed Items

Roll-Under Sinks

Floor and Door Clearance and Widening

Easy-to-Reach Switches and Fixtures

Grab Bar Installation, Loop Handles

Ample Lighting
Ken Spears customizes your design to your specific needs. We meet with you to fully assess your needs and design a plan that includes all the accessories and options needed by industry standards. 
Ken Spears Provides Handicap Bathroom Remodeling Services for:
Aging adults who wish to remain independent and in their own homes

Family Members with limited mobility

Family Members with a temporary, progressive, or permanent disability
Home is where the heart is and where you make your most cherished memories. Your home should be the safest and most comfortable place in the world for every family member. Ken Spears Construction is skilled in a broad range of accessible Bathroom remodels using only high-quality products. We keep your home clean during and after the project is complete and communicate with you throughout the process. 
Choose the Best in Handicap Remodeling in Northern Illinois
No matter the scale, scope, and complexity of your handicapped bathroom remodel project, our experienced team can transform your Bathroom that will meet the needs of everyone in the family. 
Why Choose Ken Spears for Your Handicap Bathroom Remodel
Our team offers customized modifications

With an accessible bathroom, it's easier for you or your loved ones to age in place.

We have a wide range of products that will ensure your bathroom is safe and accessible.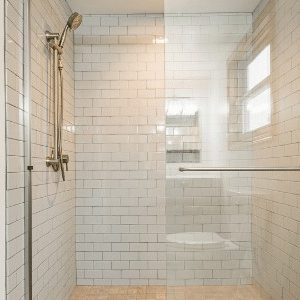 Our Age In Place Bathroom Solutions Include the following: 
Shower or Tub Replacement: A no-rim, walk-in bathtub or shower allows you to enter and exit without tripping. 
Installation of Grab Bars & Handles: It makes it easier to stand and sit safely, taking the pressure off the knees and hips. 
Installation of Multi-Level, Adjustable, and Removable Showerheads 
Doorway Expansion – Expanding the doorway makes it easy for wheelchairs and walkers to access the bathroom easily.
Installation of a Shower Bench: This allows you to sit as you shower, making the process easier and keeping you safe. 
Ensuring Ample Floor Space: Free movement for you and needed devices is essential for safety and comfort.
Slip-Resistant Flooring: Together, we will choose the right flooring to help you stay safe as you walk across your bathroom floor. 
Appropriate Fixtures: We can install suitable faucets and other fixtures to help you easily open doors, drawers, and cabinets. 
Installation of Towel and Robe Hooks
Begin Your Handicap Remodel Today!
See what our clients are saying here. Once you've read our reviews and looked over our successful projects, let's work together to start your accessible bathroom remodeling project. Schedule your free consultation today. 
Accessible Bathroom Remodeling Across the Fox River Valley Area, Including:
DeKalb, Genoa, Hinckley, Shabbona, Sycamore, Waterman, Aurora, Batavia, Big Rock, Elburn, Elgin, Geneva, North Aurora, and St. Charles
We are ready to discuss your project. We welcome you to call (815) 756-9779 or schedule your free consultation today!