Serving DeKalb, Aurora, Batavia, Geneva, & Sycamore
Renovating the Heart of the Home
The kitchen has many uses in your home. Whether you use it to prepare meals or socialize with family and friends, the space should reflect who YOU are as a person so that every part of this room speaks volumes about what kind of individual lifestyles fit best for everyone living there!
Not only will this give us beautiful spaces where beauty reflects who YOU really ARE (not what someone else wants), but these improvements also increase property value which may just make those bank loans easier.
If your kitchen is small, dark, and outdated, it's time to start thinking about a kitchen remodel. Not only will you be able to enjoy a stylish, functional kitchen, but you'll also see an increase in the value of your home.
A kitchen remodel is the perfect opportunity for you to create a space that reflects your personal style. Do not hesitate! Contact us today at (815) 756-9779 and one of our experts will help get everything started on this exciting journey towards better living through design with Batavia, Geneva, Dekalb, Aurora, and Sycamore Kitchen Projects.
An investor should make sure they know what type s/he wants before investing in property because there's no turning back after committing money into something only desires right away.
What Should You Consider Before Your Kitchen Remodel?
Kitchen Style. Do you want to have a kitchen that is modern, traditional, bohemian, rustic, transitional, or another style?
Space and Layout. Do you want to increase the space in your kitchen or change the layout?
Functionality and Storage Needs. Do you want to add a large kitchen island or a walk-in pantry to improve the functionality and storage in your existing kitchen? Read More: 6 Ways to Maximize Space in a Smaller Kitchen
Cabinet Options. What design, finish, and hardware do you want for the cabinets in your new kitchen?
Lighting. What style and finish of lighting would go best with your other selections? Do you want to have pendant lights, a chandelier, or another type?
Countertop Options. What design and material do you want in your new kitchen? You'll also want to think about the maintenance required for each option.
Appliances. What color and finish would you like to have? You can also save money on your utility bills by selecting Energy-Star Certified appliances.
Eat-In Dining Space. Do you want to add an eat-in dining space like a booth, breakfast bar, or an oversized kitchen island?
Backsplash Options. What pattern, color, shape, and tile material do you want to use for your kitchen backsplash?
Flooring. Do you want hardwood, porcelain tile, or cork floors in your kitchen? You'll want to think about the required maintenance and durability of each option.
Vent Hood Options. What kind of style, material, and finish do you want for the vent hood in your kitchen?
Other Design Features. Do you want to incorporate open shelving or a butler's pantry into your kitchen's design?
Above is an example of a before and after kitchen remodels in Sycamore showing the drastic change a remodeling contractor can perform transforming a traditional layout and flooring into a beautiful, modern kitchen with quartz countertops and stone floors.
DeKalb Kitchen Remodeling
Our Kitchen Contractor Process
Whether you are ready for a full kitchen to remodel or just an update, we are here to help you through the process.
We initially meet with you in your existing kitchen to determine how you currently use your kitchen, what you really like about it, and what will be the most efficient use of space.
We design your kitchen using the input from our onsite meeting. Many selections and options come into play when remodeling a kitchen, and we will lead you through the process.
At the next meeting, we discuss the plans in our conference room. Our software allows you to see 3-D views of your new kitchen.  We can make changes while you watch.
After we have developed a plan, we will do a walk-through with our building trades team members. This allows us to give you an exact price for your project.
We review the plan with you, recapping the feedback and insights from our team members.  We do this to address any potential challenges before the project starts.
As we head to production, we provide you with an expectation of when the project will start, when it will end, and what will happen in the interval between those two points.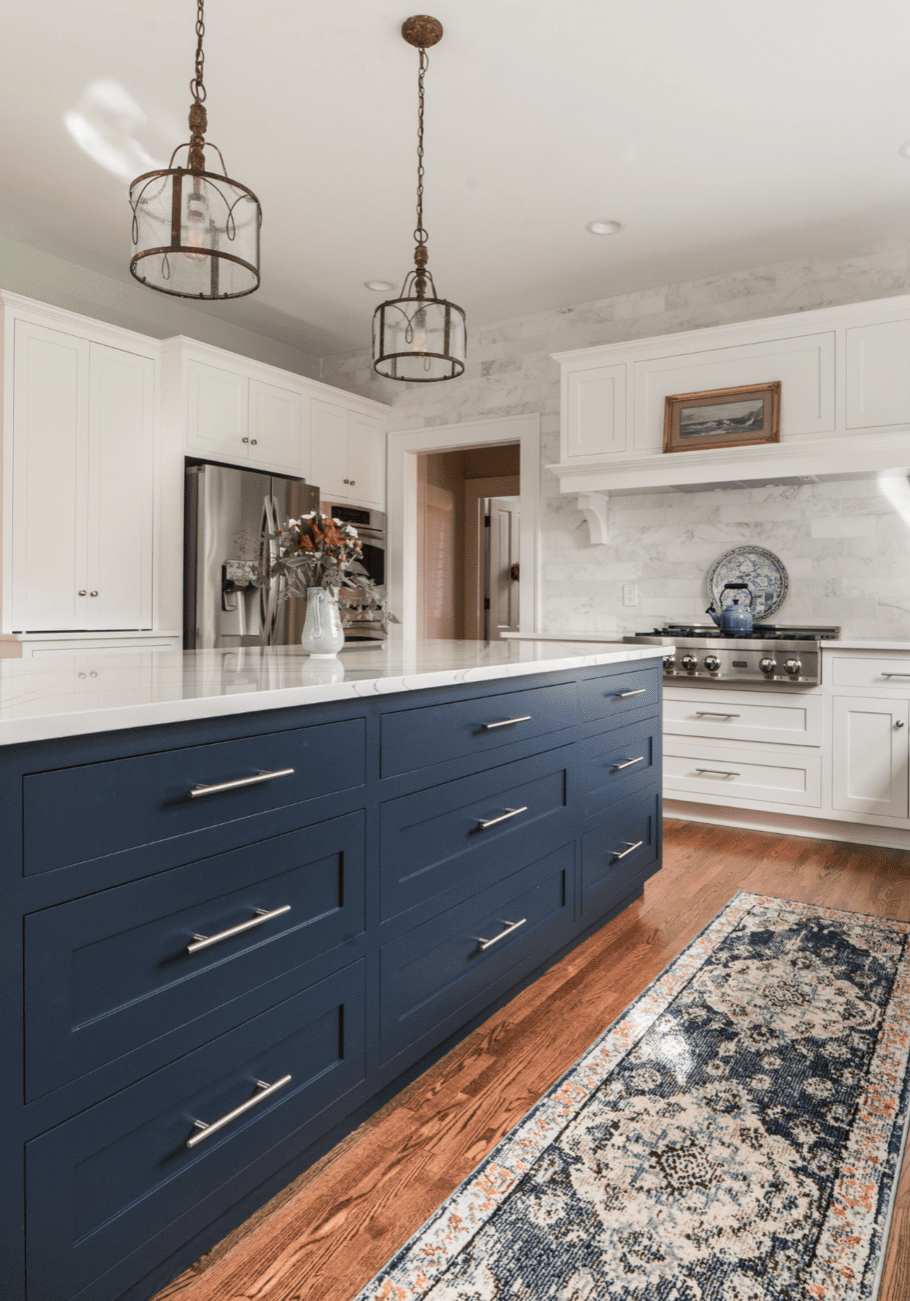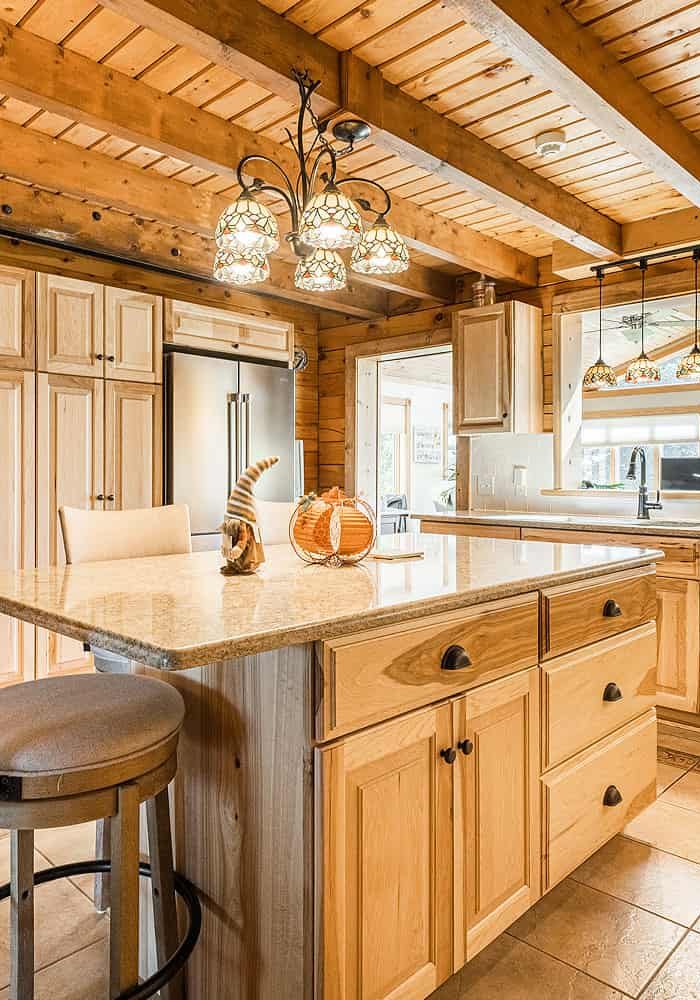 Ken Spears is a Certified Aging in Place Contractor and uses his skills to design kitchens that will be safe and functional for many years to come. Our team incorporates universal design concepts and products in our recommendations to meet your needs over time. Some of the features we use for our aging in place remodels include:
Wall support and provision for adjustable and/or varied height counters
Upper cabinets lowered three inches below the conventional height
Pull out shelves and a lazy susan in the lower cabinets
Glass-front cabinet doors on all upper cabinets
Slip-resistant flooring
Open shelving for easy access to frequently used items
Roll-under or motorized sink to allow for wheelchair access
Task lighting in work areas
Loop handles for easy grip and pull
Sink with pull-out spray faucet and levered handles
Microwave oven located at counter height
Raised dishwasher with easy to read, push-button controls
An electric cooktop with level burners, a light to indicate when the surface is hot, front controls, and a downdraft feature that pulls heat away from the user
[Learn More: Remodeling Plans to Help You Age in Place]