Our clients in picturesque Geneva faced the everyday challenges of a cramped and outdated kitchen. With a space that struggled to accommodate more than one person at a time and limited room for food preparation, they knew it was time for a change. They called on Ken Spears Construction for their kitchen remodel, noting that preserving some of the existing cabinets was essential. Our team transformed their kitchen, improving functionality and creating a harmonious blend of old and new.
Project Overview
The kitchen layout made it difficult for the homeowners to work simultaneously in the space, inhibiting their ability to cook and socialize freely. The corner location of the sink prep area restricted the workspace and hindered efficient meal preparation. Despite these challenges, the homeowners were attached to their existing cabinets and desired to retain their style. Additionally, the kitchen's original windows required seasonal storm window installation, adding to their yearly maintenance workload.
Project Photos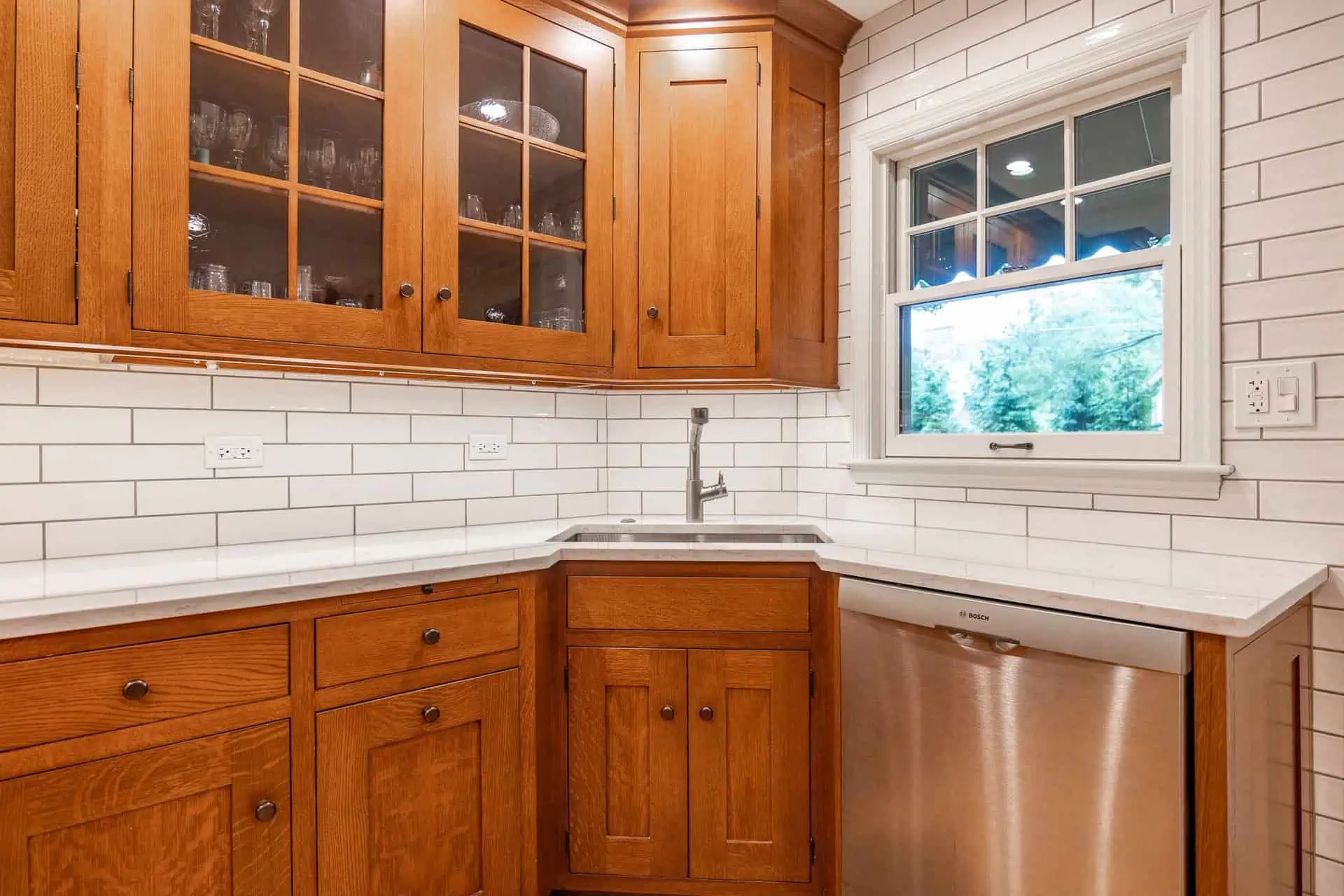 Client's Objectives
The homeowners' primary objective was to enhance their kitchen's functionality without sacrificing the charm of their beloved quarter-sawn oak cabinets. They sought a solution to alleviate the spatial limitations, provide ample storage, and seamlessly incorporate modern conveniences.
Challenges for the Homeowner
Improve kitchen layout for better functionality.
Better position the workspace for meal preparation
Windows that didn't require seasonal work.
Adequate storage
Design Elements Used To Create A More Functional Bathroom
The renovation project's success can be attributed, in part, to the high-quality products. We meticulously matched the style, stain, and hardware to blend the new additions seamlessly with the existing quarter-sawn oak cabinets. We incorporated the following products into the design:
Quarter-sawn oak cabinets
LX Viatera Clarino
3″ x 12″ white wall tile
Hansgrohe Talis Loop pullout faucet in Steel Optik finish
How Ken Spears Construction Helped Them Reach Their Objectives
We took on the challenge of revamping the homeowners' kitchen. Understanding the importance of maintaining the existing cabinetry, the team developed a comprehensive plan that addressed the client's pain points while creating a beautiful space.
To address the limited space, We removed the oversized window and replaced it with a Pella double-hung window. This alteration opened the kitchen and flooded it with natural light, creating an inviting atmosphere. The window over the kitchen sink was also replaced, enhancing the natural lighting.
The team eliminated the existing island to maximize efficiency and storage and introduced a new one with a spacious countertop. This new island incorporated a prep sink, an ice maker, and a beverage cooler, adding convenience and practicality. Additionally, a bank of cabinets with a strategically placed stove was installed, expanding storage options while maintaining a cohesive aesthetic.
Schedule Your In-Home Consultation with Ken Spears Construction
If you are grappling with a kitchen space that no longer meets your needs, Ken Spears Construction is here to help. With our expertise, innovative solutions, and commitment to client satisfaction, we can transform your kitchen into a harmonious blend of functionality and style. Schedule an in-home consultation today and embark on a journey toward revitalizing your home.