Our Sycamore clients are empty nesters enjoying their lives with their furry friends and were craving a kitchen makeover! With the brilliant team at Ken Spears Construction, they revamped their culinary haven from drab to fab and functional. Now, their stylish kitchen boasts modern appliances, sleek cabinetry, and seamless flow between rooms.
Their new open-plan caters to their lifestyle, ensuring optimal functionality to aid them in whipping up delicious meals and entertaining guests simultaneously. Whether cooking a romantic dinner for two or hosting a large gathering, their new setup provides the perfect balance of form and function!
Project Overview
Eager to breathe new life into their space, the couple decided to modernize their kitchen and spice up the functionality. They desired a seamless flow between rooms. Fueled by their vision, our skilled kitchen remodeling team dove into the challenge. Modern appliances, state-of-the-art fixtures, and new countertops with updated cabinets are the centerpiece of their open-plan layout.
Project Images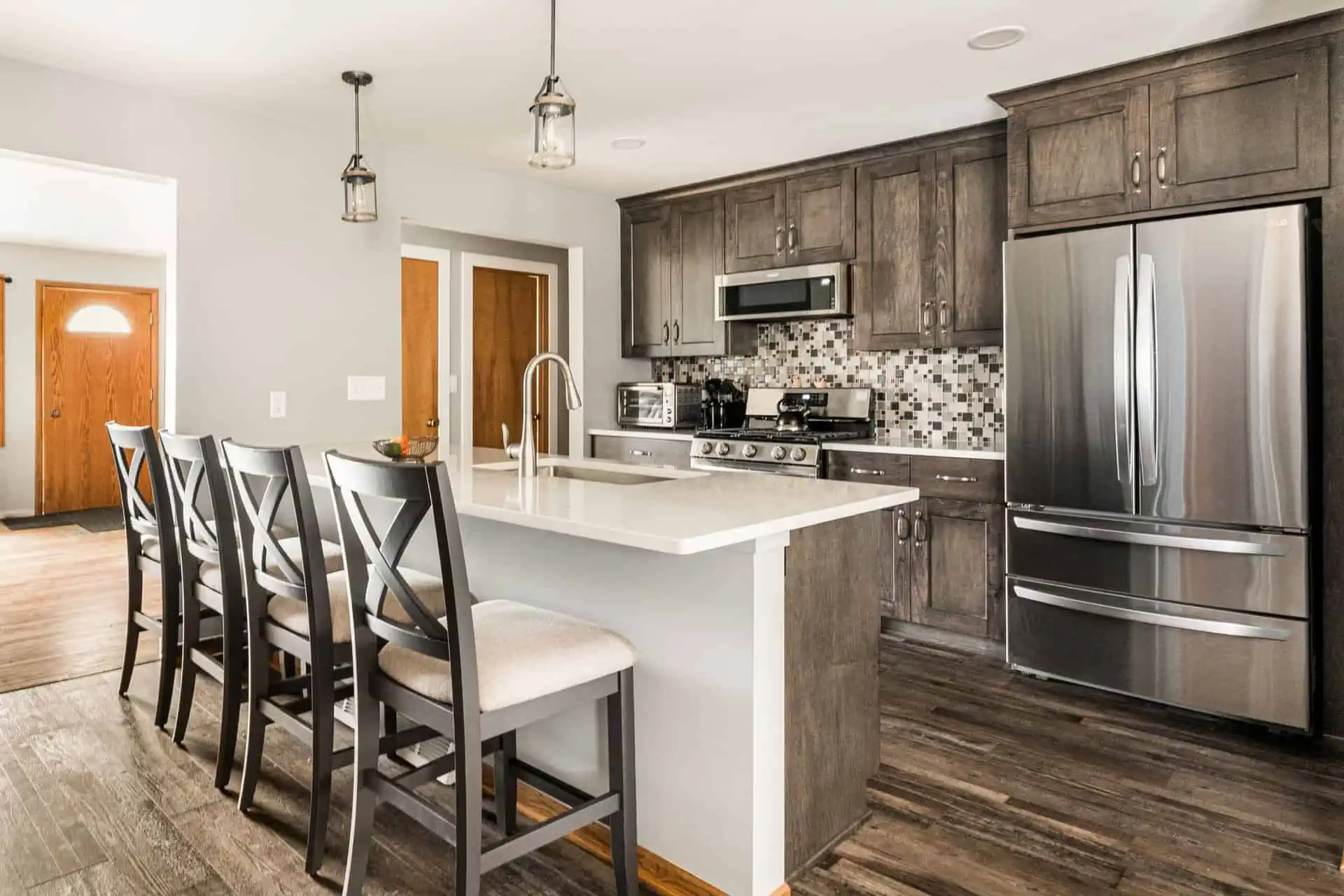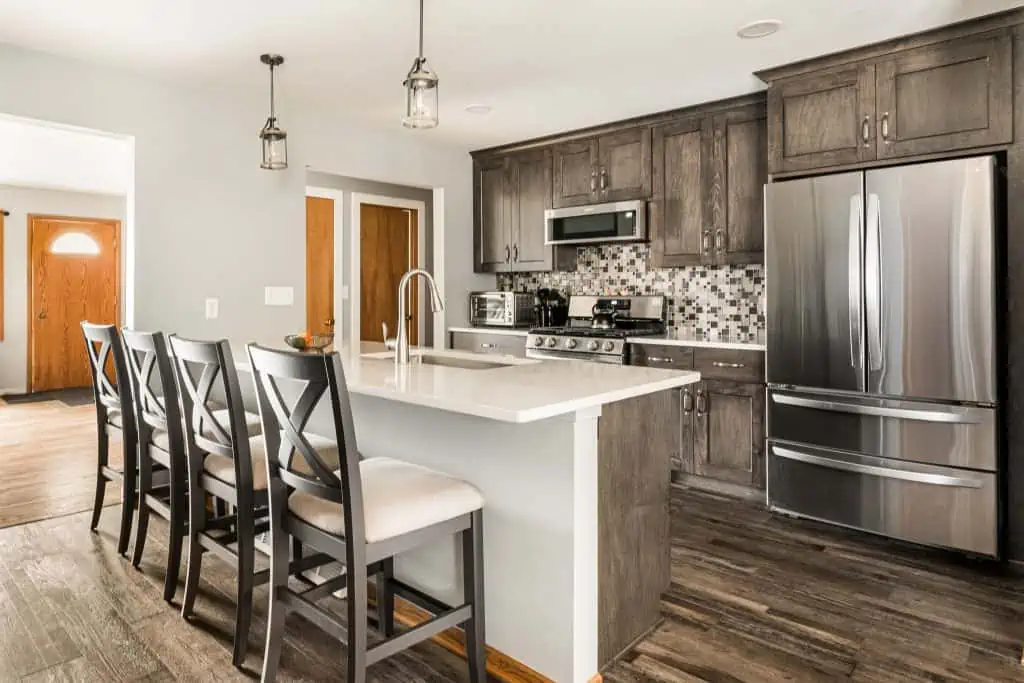 Challenges For The Homeowner
Our clients wanted a seamless flow from the kitchen, through the living room, to the wide-open back sliding patio. Our clients desired a modern touch, incorporating chic colors and upgraded materials while switching from electric to gas cooking. As appreciators of fine whiskey and bourbon, they longed to showcase their collection in a sophisticated bar. Craving the perfect spot for a quick nibble or a hearty meal, they also sought a stylish snack bar to complete their culinary sanctuary.
• Improved view into the backyard.
• Updated design, flow, and layout for efficient food prep and cooking
• Abundant storage and countertop space
• Better positioning of their range and conversion to gas
• Beautiful bar area to display their fine whiskey and bourbon collection
• Inviting island snack bar.
How We Solved the Problem
While meeting with the couple in their home, we discussed their specific needs and wants for their kitchen. Our design team crafted a plan tailored just for them that flawlessly balanced space, accessibility, and functionality. They worked with the couple to choose the materials and appliances to bring the project together and then got to work!
We completely revamped the kitchen, opening the wall from the family room to the new kitchen and dining area to connect with the family room, creating a seamless flow and clear visibility. We then replaced their electric range with gas and added a gas line to the new range location. We also repurposed an unused room into a sophisticated dining space, providing more space to expand the kitchen and install more cabinets and storage space.
We installed a bar area with narrow cabinets and shelves to the wall against stairs to accommodate their whiskey and bourbon collection. Their new open galley kitchen also features a snack bar countertop. We updated the flowing to vinyl plank throughout the kitchen and dining area for continuity of space.
Now the couple can enjoy their dream kitchen with abundant storage space, a warm and inviting atmosphere, and all the amenities they need to entertain friends and family. We are thrilled to have been part of such a fantastic journey for our clients!
Design Elements Used To Create A Functional, Well-Flowing Kitchen
Stained maple cabinets–winter sky color stain
Silestone Quartz countertops–Blanco Orion color.
Vinyl plank flooring
New tile backsplash
Moen Arbor faucet
Embark on a Culinary Adventure with a Stunning Kitchen Makeover
Imagine stepping into a jaw-dropping kitchen tailored just for you! The tenacious team at Ken Spears Construction excels in transforming kitchens into culinary havens for families. Our experts are here to help and are ready to craft your vision – be it a striking, modern design or an enduring classic with timeless charm.
With over 40 years of delighting families in DeKalb and Kane County, we've made many families' dreams come true. Browse our kitchen remodeling portfolio, then get started with a complimentary in-home consultation.