Will 2023 be the year for your amazing bathroom remodel? Today bathrooms are becoming spaces where homeowners can relax and rejuvenate with all the necessary conveniences. Whether it's your master, kids, or guest bathroom, knowing the trends in materials, design, and features can help to ensure your project has a timeless appeal.
Here we share an overview of twenty-three top bathroom remodeling trends in 2023 that you should consider.
Trends to Watch For in Bathroom Remodeling for 2023
Looking for ideas that will update your space and keep with the style of your home? We have you covered! Read on to discover what's trending in bathroom redesign this year and how these ideas can revolutionize your space.
Terrazzo Tile Makes a Comeback
Terrazzo tile is back and bigger than ever! This fun, retro material has been showing up in bathrooms as a unique way to level up your space. It comes in virtually every color, and its signature stone specks are available in varying sizes to create genuinely stunning looks.
Consider fluted terrazzo tiles on the walls and square tiles for texture on flooring, and remember to pair it with neutral hues so it's not too overpowering. The material is strong and easy to maintain, making it perfect for the bathroom.
Couture, High-Fashion Powder Rooms
Turn your guest bathroom into an upscale couture powder room. Express yourselves by transforming this space into an eye-catching gem that will amaze and delight visitors when they pop in to freshen up. No matter the size, the right design touches can transform your ordinary powder room into something extraordinary. Use bold wallpaper and statement lighting to make it shine.
Statement Bathtubs
Put the spotlight on your bathtub, making it the center of attention in your bathroom. There is no doubt that luxurious, custom, freestanding bathtubs have become essential in modern bathroom design. With the added touch of statement fixtures, we can help you to create a stunning primary bathroom with a spa-like quality. It's a nod to our recent shift towards self-care.
Backlighting on Mirrors
Make an enormous impact on the look and feel of your bathroom with a minor upgrade – the backlight mirror. Chic mirrors equipped with LED lighting helps takes you from feeling like an average Joe or Jane to Hollywood royalty.
Adding Sparks of Color
Try subtle beige, warm ochres, and dusky browns. Start anywhere on the color wheel and work from there. Use it boldly or as accents, and use color to make a statement. Create tranquility with deep, rich blues, teals, and sea greens. If you like lighter colors, consider peaches, pinks, and rose.
Geometric Tiles
In 2023 bathrooms will experience a style revolution thanks to trend-defining tile designs. Colorful hexagons and other geometric shapes are quickly becoming popular for home design, especially in bathrooms. Use them as a focal piece, with bold colors and sizes, to add an interesting structure to the space. With geometric patterns, you can create the illusion of a larger area.
Wall Sconces
For a modern touch, slimline wall sconces add a look of elegance and the practicality of illumination. They easily fit into tight budgets and can spruce up your space. Sconces should be mounted about 36-40′ apart and just below eye level to avoid glare.
Seamless Showers
Transform your bathroom in 2023 with the chic and modern look of frameless glass shower panels. This innovative design is a subtle but effective way to make smaller bathrooms appear larger while creating an eye-catching accent wall.
Go Off the Beaten Path with Sinks
Freestanding basins give your bathroom extra space and even add to the character of small spaces. Manufacturers have caught on, and this year will bring more variety and customizations than ever before.
Open Spout Faucets
Open spout faucets are a stylish way to bring a little luxury to your bathroom. You get a calming cascade of a refreshing waterfall and warm and cold water accessible with one lever; it will add beauty and save space. Elegance meets function with these designer fixtures.
Showstopping Lighting Fixtures
Stop the show with decorative lighting! Bathroom lighting is essential to creating the perfect atmosphere. From pendant lights to ornate ceiling fixtures, beautiful bathroom lighting can transform the room while providing function. They can create a calming ambiance and offer a stylistic flair.
Tiled Walls
Transform your bathroom into an elegant oasis by tiling its walls. With a moisture-resistant defense, tile can protect against water damage while adding style and sophistication to the space with dark contrasts or full wall coverage from floor to ceiling. Pair it alongside unique wallpaper designs for extra charm!
Floating Shelves
A bathroom can only be an oasis with ample storage to keep things where they should be. Floating shelves provide a practical solution to help minimize moisture build-up without compromising design. Add open-air shelves in natural wood or stone. Everything is accessible and within reach with this classic yet modern look.
Incorporating Natural Stone
Natural stones are quickly becoming a popular choice. A symbol of elegance since ancient times, it still captivates today. Connect with nature in your personal space with beautiful natural stone. Use custom colors to show your personality to set the tone. The possibilities are endless with the abundant selection on the market.
Adding a Touch of Luxury While Going High Tech
Add luxury with marble, stone, and rich finishes. Add the tech with steamy aromatherapy shows, heated floors, and low-flow toilets. Opt for options that allow you to adjust temperature and lighting with your voice.
These options also help you save energy and water, thus saving you money! Think smart toilets and showers and water recyclers.
Wellness Features
Homeowners are focusing on sustainable upgrades and energy efficiency. Practice a little self-care by incorporating wellness into your bathroom remodel. Consider warming drawers to keep your towels cozy, fog-free make-up mirrors, and aromatherapy showers. Auto bath ventilation systems and tankless water heaters will help to reduce the environmental impact of our everyday lives.
A Monochromatic Look
Add opulence with a monochromatic look. Try grays, blacks, and whites. Then add a touch of gold and navy. Use nice touches like wow-worthy mirrors and lush green plants. It's a timeless look with subtle sophistication and just enough flair.
Steam Showers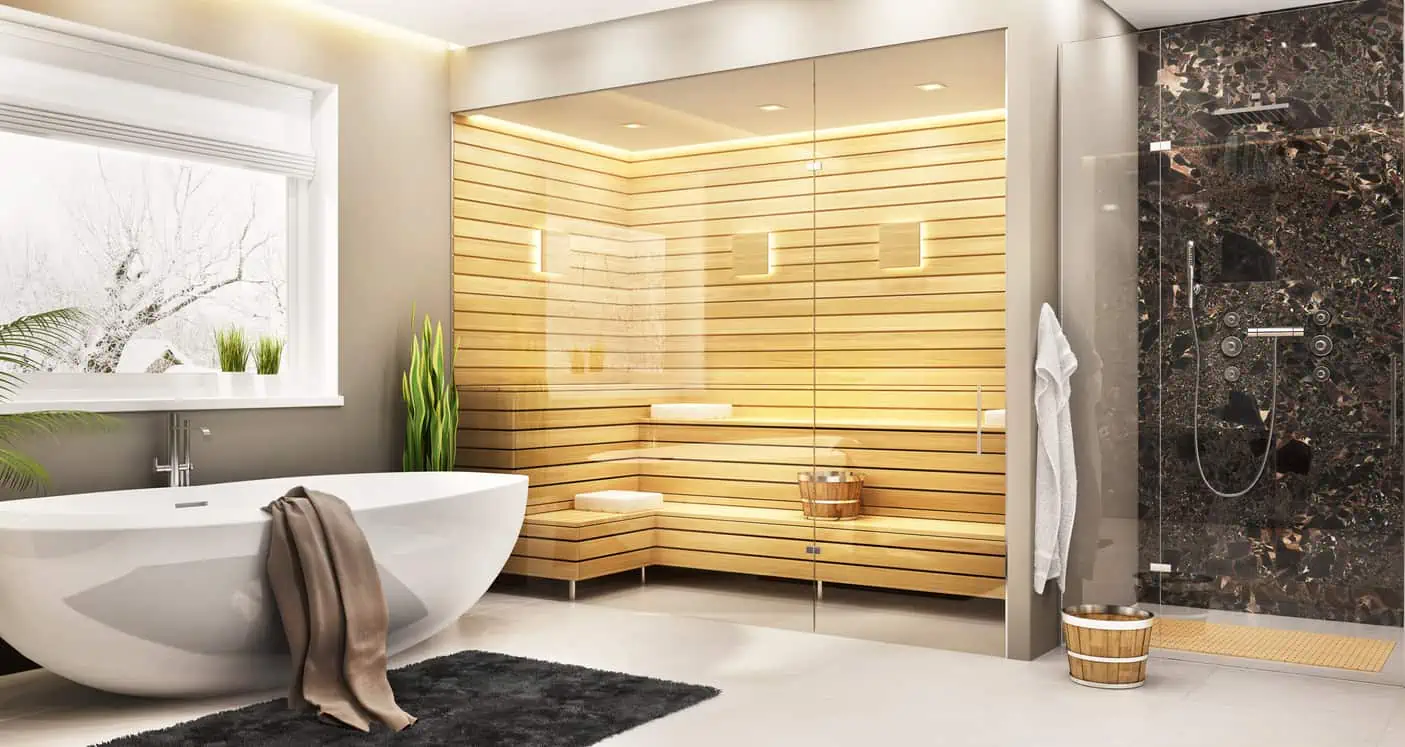 Relaxing, rejuvenating, and reviving – a steam shower has it all! Add a special touch of wellness and relaxation with a steam shower. They help soothe stiff joints and muscles while relieving sinus congestion and detoxifying the skin.
Keeping Things Separate
When creating your ideal bathroom retreat, you may separate the space for two. You can get individual sinks, vanities, toilets, and closets. This gives you greater privacy and provides a joint space to enjoy together like a luxurious shower.
All the Marble
Like terrazzo, marble is making a major comeback, emerging as the top choice for an elegant and eye-catching bathroom. Its timeless beauty and unique veining provide character you can't find in other materials.
Bring Back the Wall Coverings
Looking to make a bold statement in your bathroom? Wallpaper could be the way to go. Try a floor-to-ceiling look; you only need to paper one wall to make a significant impact. Classic florals, vibrant designs, bold stripes, and prints – there is an option for everyone.
Take the Kid's Bathroom to the Next Level
Kids' bathrooms are more than just basic affairs. Making their bathroom polished and pretty may keep them out of yours! 2023 will bring a wave of luxurious designs, from custom tile to high-end fixtures, and coordinate the space with their bedrooms.
Amazing Accent Touches
Homeowners in 2023 will embrace fun colors and textures to create a relaxing atmosphere and kick it up a notch. Bold-hued hardware, bold patterns, jewelry-inspired accents, and more!
Ken Spears Helps You Incorporate 2023 Bathroom Design Trends into Your Remodel
Revamp your bathroom into a stylish oasis fit for 2023! With the help of the Ken Spears Construction remodeling pros, get ahead of the curve and get your chic, modern bathroom. Our experienced team will work with you to ensure you hit the right trends while keeping them timeless. Schedule your complimentary consultation today!