We've all found our homes to be refuges even more now than before 2020. So, why not ensure that your bathroom is truly an escape with a bathroom remodel? Before you start, Ken Spears Construction has assembled this list of the top ten-bathroom remodeling trends that are making a splash! We'll give you ideas to update your bathroom with fixtures and design elements that can offer a new look and a space that feels like a personal spa.
Modern Sinks and No-Touch Faucets
Upgrading the faucets can be a simple switch to freshening up your bathroom design. Motion sensor technology helps you conserve water, keep bills low, maintain good hygiene and update the look of your bathroom. And going touchless for handwashing is perfect for keeping germs at bay. You've seen them in commercial settings, and now they've gone residential.
1. Incorporating Technology
Bring technology into the bathroom other than the faucets; think smart toilets! They use less water than standard toilets and include touchless flushing, automatic lids, seat warmers, self-cleaning, and overflow protection. Smart showers allow you to set the perfect water flow rate and temperature. Upgrade your ventilation with humidity, steam-sensing exhaust fans, heated floors, and smart mirrors. Include wall-mounted digital apps that can control your shower and heated floor.

2. Age at Home Features that Provide Luxury
Those ADA-compliant features that help homeowners age at home are being applied in all bathrooms. Even if you don't need these touches, they come in handy and can upgrade your space. Rainfall showerheads, curbless showers, handheld showers, and shower seats can all help those with accessibility issues and be luxury features for the entire family.
3. All-in-One Shower & Bath
Why separate your shower and bath when you don't have to? We're not talking about the old cramped tub and shower combos; we're talking about using a glass divider that separates the vanity area from the bathing area with the shower and tub inside the enclosure.
4. Twin Showerheads
Add another showerhead if you love showers and don't need a bathtub. This is, of course, only possible if you have enough room to share. But that's why we're here! We can help you extend your shower space and make it a double!
5. Full Spa Experience Bathrooms
Make your home bathroom a whole spa experience with features like steam showers that supply mists of steam into your shower. Heat it up with towels and floor heaters that take your shower experience to the next level. When setting it up post-remodeling, pick up some aromatherapy candles and supple and fluffy towels.
6. Wet Rooms
Really give your bathroom a spa makeover with a wet room. These open spaces include the tub, shower, sink, and toilet. Essentially, the whole room is meant to get wet and is pretty new to the U.S.
This waterproof design can even be used in small bathrooms. They are curbless, easy to keep clean, and offer an open-concept layout. The opportunity for creative design without the need to squeeze in a shower enclosure or raised tray is open with wet room ideas. This space can be luxurious, with floor-to-ceiling tiles and built-ins that offer seating. It's also easy on your cleanliness since there aren't any panels!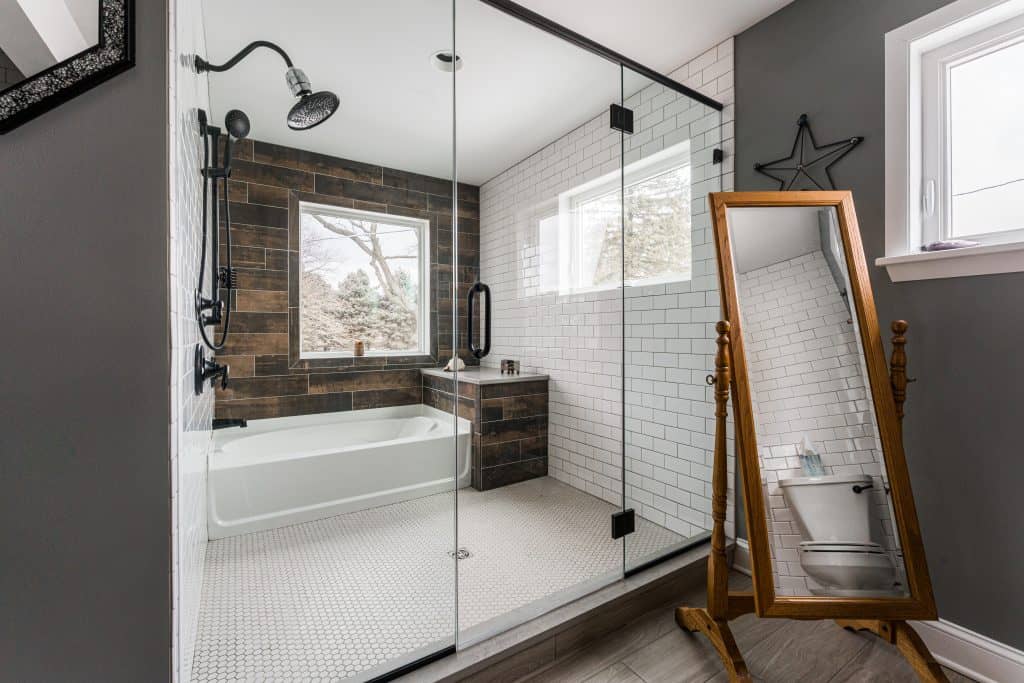 7. Organic Touches
We're returning to natural touches, so organic trends have found their way into our bathrooms. Using natural materials, earth tones, natural woods, and foliage, it's a nod to nature. Let in the natural light with skylights or add a window in closed-in bathrooms.
We've seen a growth in nature-inspired themes within bathroom remodeling. As nature becomes increasingly abstract in our world, there will be an increasing need for connections with it. This is where accents come into play and help bring out the human design element by complementing this style's naturalistic themes. A bath accentuating its connection to Mother Earth can easily become one's retreat away from work or home distractions. A space filled only with peaceful thoughts while soaking off tired muscles after spending time outside enjoying the fresh air.

8. Curbless Showers
One of those age-in-place design ideas is curbless showers, but they're perfect for everyone. Providing accessibility and continuous design, the look of a curbless shower offers crisper lines in your overall bathroom design. And the showers are easier to keep clean. Include grab bars and a shower seat for comfort and safety for those with disabilities and looking to age in place.
The curbless shower is an excellent design for people who want to create a spa-like retreat in their bathroom. The flexibility of tile choices allows you, with simple large format tiles or creative combinations on flooring and walls without obstruction from curbs, this space is not just flexible but also easier than ever! For those looking forward to luxury features such as built-in seats & benches, inset shelves and niches to hold shampoo bottles, and low-profile linear drains.
9. Improved Storage with Hidden and Open Spaces
When you're trying to keep the bathroom a peaceful place, storage is necessary. But you don't have to hide everything. Use a combination of hidden and open storage spaces. Incorporate floating shelves, corner storage, linen closets, under-cabinet storage, and medicine cabinets.
Other ideas might be to turn a false drawer and create a tip-out tray.
Or try a footer tray to hide those discreet items like toilet paper or personal hygiene products.
With the help of a few simple hacks, you can convert your bathroom cabinet shelves into pull-out drawers and create an organized space for all those everyday items that are too big to fit on top or in front. This is especially great if there's not enough room inside cabinets with normal doors because it gives users access from both sides!
Tips for Styling with Trends & Classic Elements
While you want to incorporate trends, you also want to keep it timeless. After all, a remodeling project is a significant investment, and you want the look to stand the test of time. So, it's essential to throw in some trendy elements but stick to classic design overall. Here are some tips for incorporating trends and maintaining a classic look:
Keep your tile neutral.
Use timeless natural stone.
Choose traditional hues for fixtures, but brave the trends – they are easily changed out.
Use your towels and other textiles to incorporate fun and trendy patterns.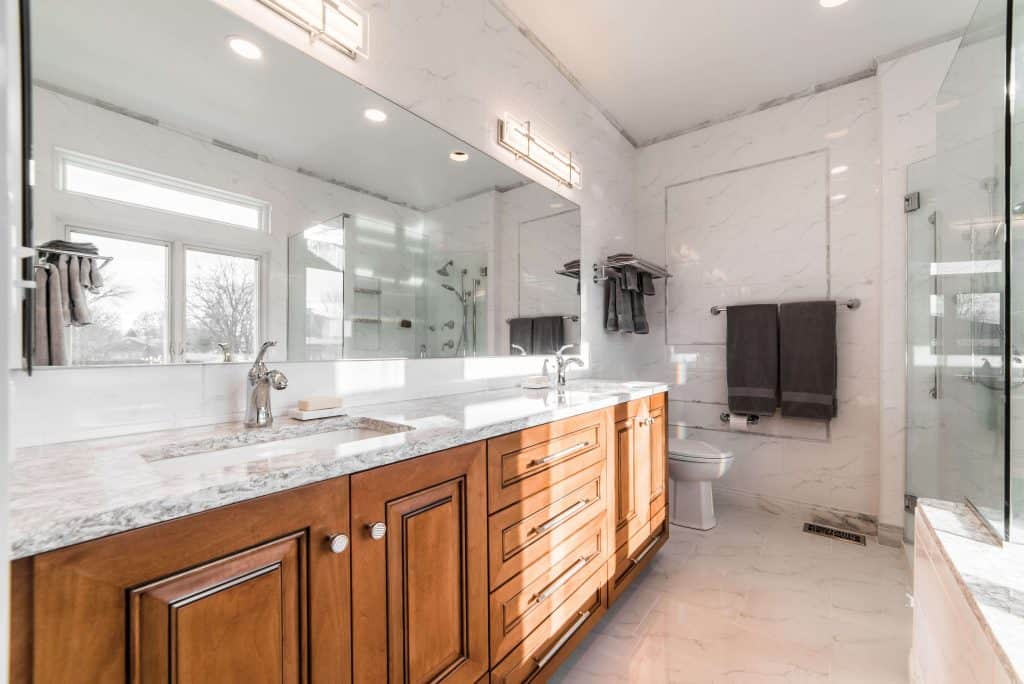 Explore More Trends and Remodel Your Bathroom with Ken Spears Construction
If you're looking for a fresh look, better accessibility, or flow in your bathroom, reach out to our team! We can help you create the space of your dreams while sticking to your budget. Our goal is to help you incorporate your trendy ideas with classic design to create a unique look that you'll love! We've been doing it for over four decades for families in DeKalb and Kane Counties and can't wait to hear your vision. We invite you to tour our featured projects and bathroom remodeling portfolio for inspiration and to see the work we've done for your neighbors. Then schedule your complimentary in-home consultation today!