Do you love your home, but want to upgrade your existing bathrooms?
If so, you're not alone. A better bathroom is one of the most requested items when it comes to home remodeling. Before you start planning your own bathroom remodel, take a moment to check out some of these incredible must-have features that you might want to add into the design of your Kane County bathroom.
Must-Have Features for Your Kane County Bathroom Remodel
Here are the features your friends and neighbors consider must-have upgrades when it comes to remodeling a bathroom.
Heated Floors
There is nothing more luxurious than heated floors. Picture yourself stepping out of the shower onto a nice warm floor on a cold winter's day. No more tip-toeing across an ice-cold floor as you run for your slippers.
Walk-In Shower
Having a walk-in shower gives you room to move around and do what you need to do more easily versus being cramped and continually banging your elbows against the wall. You will love the freedom you get from having a walk-in shower.
Soaking Tub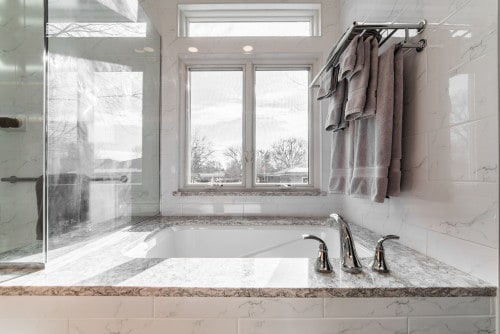 What's better than taking a nice hot bath after a long, hard day? But you can't do that comfortably unless you have a proper soaking tub. You need a tub that envelops you in a deep pool of water so you can drift into a relaxed state of mind while the water soothes your tired body.
Steam Shower
Forget the gym sauna with a new steam shower! It allows you to easily sweat out all those nasty toxins from the comfort of your own home. A steam shower uses a humidifying steam generator that will surround your body with a nice steam vapor.
His and Hers Vanities and Sinks
Are you tired of sharing one vanity and sink with your partner? With his and hers vanities and sinks, that will be a thing of the past. Just imagine how nice it would be to have everything you need right at your fingertips. No more having to maneuver over and around your partner's personal items.
Dressing Room/Walk-In Closet
There has been no one ever that has said they didn't need more closet space. So while having your bathroom remodeled, why not consider adding a walk-in closet that could double as a dressing room. Once you have one, you'll wonder how you ever lived without it.
High-End Materials
If you're going to remodel your bathroom, consider using high-end materials such as Carrara marble countertops. Using high-end materials will not only increase the value of your home, but it will also make you feel like royalty.
Heated Towel Racks
Heated towel racks are a nice touch for your new bathroom remodel. Yeah, you could skip them, but why would you? This simple little addition to your Kane County bathroom remodel is a small cost for such a big luxury. So go ahead and pamper yourself.
Waterproof Television
A waterproof television is a nice finishing touch for your new bathroom remodel. Imagine how a waterproof television could transform the entire bathroom experience. No more staring at the walls when you should be using your bathroom time to relax and forget about the daily stresses of life.
What's Next?
If you want more information about remodeling your master bath, powder room, or guest bathroom, please contact us today. We have been remodeling bathrooms across Kane County and DeKalb County since 1975 and would be happy to walk you through the whole process.