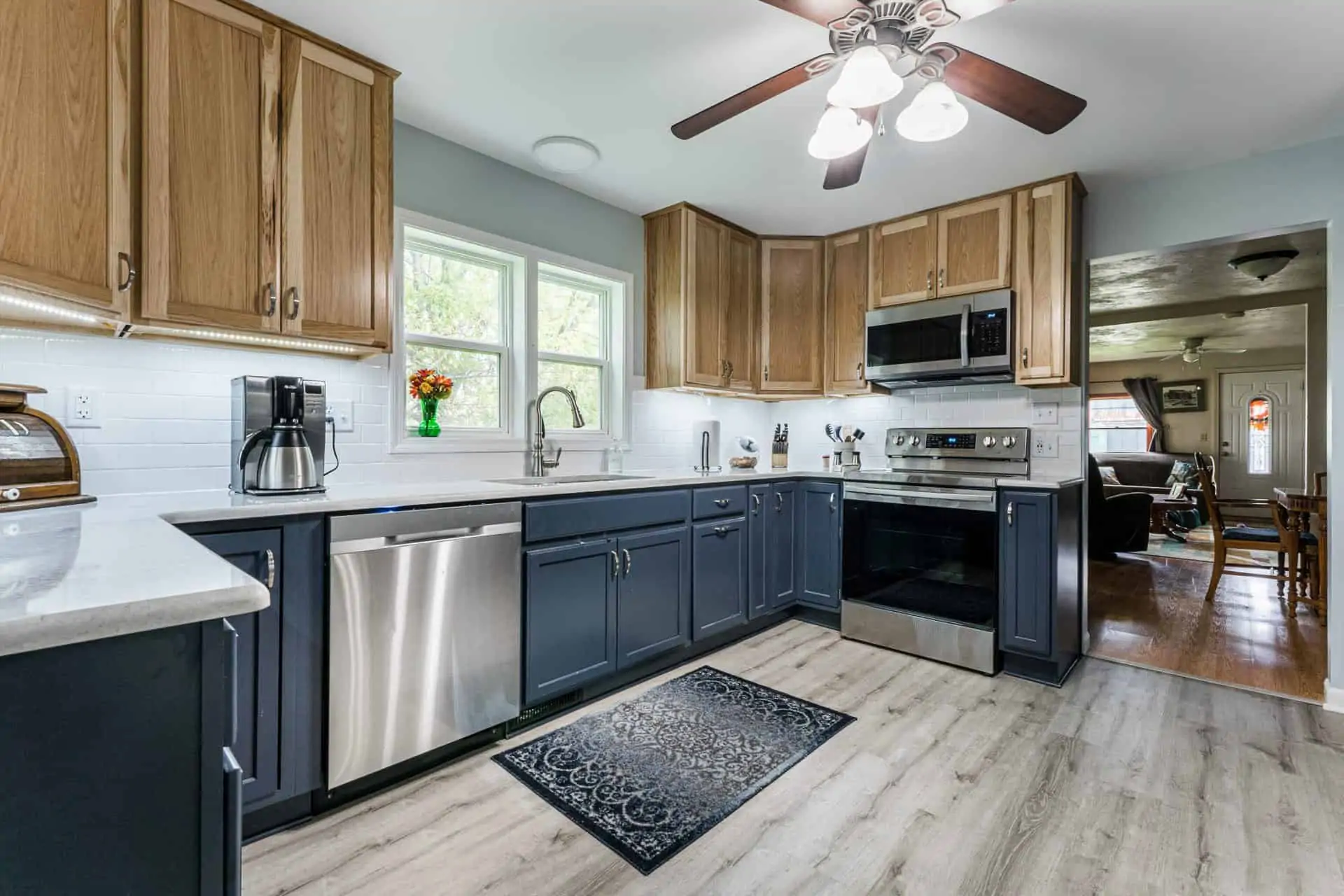 Your kitchen is where the family meets for meals, comforting talks over cocoa, and even where homework takes place. So, it should be a room that works for everyone. If it's not, it's time for a kitchen remodel.
Remodeling your kitchen can increase the value and functionality of your home. While the remodeling process can be overwhelming, Ken Spears Construction offers 17 considerations to ensure a successful and smooth remodel. Applying these things to your strategic plan can help you enjoy your new kitchen sooner and ensure that you love your new kitchen design.
1. Research & Inspiration Helps!
When it comes to remodeling your kitchen, you have plenty of options. Before you begin making decisions, it's time to do some research and find inspiration! Visit local kitchen outlets and model homes – this will give you perspective on what is out there in terms of design trends. Start watching home makeover shoes; they are full of unique ideas. Grab home décor magazines and start clipping out kitchen designs that move you. If there is a home and garden expo in your area, attend and take plenty of photos. Scour through the Ken Spears Construction Remodeling Blog and our Portfolio to see how we have improved the spaces of your neighbors.
Now is a good time to check out websites like Instagram and Pinterest for some inspiration.
We recommend on Instagram:
Knowing what you want in your kitchen design is a big part of making it a reality. It's essential to have your ideas ready at your in-home consultation. So take some time now and make notes of the layouts, appliances, and other things you would like to include in your kitchen design.
2. What are Your Plans?
Are you remodeling to put your house on the market? Or are you remodeling your kitchen for you and your family to enjoy for the next decade? Your answer to this question will help you make the right decisions about appliances, colors, flooring, and more.
When selling your home, you want to make selections that make your kitchen more appealing to the masses. If you're remodeling for yourself, you can focus on what would make you happy, including the quirky colors and materials you love!

3. How Do You Use Your Kitchen Now?
Take a seat in your kitchen and think about how you use the space. Consider who uses the kitchen. If you are the chef of the house and stand at 5'3″, you'll want to remember that when choosing cabinet and counter heights.
What issues have you had in your kitchen? Do you have the pantry space for the groceries you need? Do you use your air fryer and other appliances more than your oven? Then you'll need plenty of countertop space or the storage space to put it away when it's not in use. Do you need a space for that cooking or craft vlog? Do your kids do their homework in the space?
Think about how you store your Tupperware, glassware, and cookware and where you want to keep your garbage can. Every detail you can note will help you as you make selections and will help your remodeling team as they create the perfect kitchen for you!
4. How Do You Want to Use Your Kitchen?
What's the goal of this remodeling project? Do you want to have more space for entertaining or storing your things? Take all the things you hate about the area and think about what makes you love it.
Include those things that would be nice, but you could do without them if you had to. Envision a kitchen where everything is where it should be to help your time in the kitchen be more enjoyable. Take that goal and add it to your notes.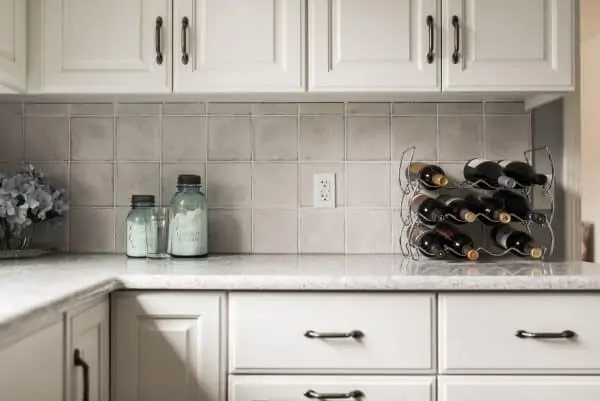 5. What's Your Budget?
Before you start planning your kitchen remodel, it's important to have a clear idea of how much money you can afford for this major undertaking. Budgeting your kitchen remodel probably doesn't sound fun. But it's necessary.
Budgeting smart from the beginning helps you to get through the entire project without a hitch. Remodeling your kitchen is not cheap! So, it's important to determine upfront what you can afford to pay for this remodel. How will you finance the project?
You can't estimate the cost of your project until you know what's involved. Do your research and assemble a price list for all materials, plumbing, and electrical work. Then set priorities. The last thing you want is to go over budget midway through the project.
6. Layout is Key
When remodeling your kitchen, think hard about how you want the space to work for you. The layout is key to making the most out of your space. Remember that your appliances can be moved around to maximize space. Consider the work triangle. Within the triangle are work areas – sink, stove, and refrigerator. Then get more specific. Do you need your pantry near your stove? Should your dishwasher be positioned close to your glassware and dishware cabinet? Do you need your refrigerator next to your kitchen prep counter and the sink to make preparing meals easier?
7. To Replace or Reface the Cabinets?
How do your current cabinets work for you and your family? Do you need to add on or replace all of them? When you install new cabinets, you can customize your storage. Custom cabinets are an option, but they aren't necessary. Stock cabinets are less expensive and are usually readily available. Look for durability as well as attractiveness.
If you decide to keep your cabinets to keep costs down, consider refacing them. Adding new doors, drawer fronts, crown molding, and hardware can make them look brand new! Consider the space above the cabinet. Do you prefer to have the space for décor? Or would you rather take your cabinets up to the ceiling?
8. Countertops
Countertops are a big decision! They have a way of pulling everything together! Remember that you're not looking for just a pretty countertop.
You need surfaces that can take a little abuse! Consider quartz, granite, soapstone, ceramic tile, concrete, wood, and butcher block. Remember that if you use a lot of appliances or cook often, you'll need more space near your stovetop. Stacking them at different heights can help you handle various tasks.
9. Will You Need New Appliances?
The appliances in your kitchen are critical to feeding the family and cleaning up afterward. It's important that they are high-quality and durable. But that doesn't mean they have to be chef-approved.
Keep your layout in mind when choosing appliances. You need to make sure that they will fit in your space. Make these choices early because the supply chain is backed up, causing issues getting appliances out to customers.
10. Practical Flooring
There are so many new options for flooring. Your floor should be beautiful, but if it's not practical for your family – it's not the right choice. Consider:
Bamboo is durable and moisture resistant.
Hardwoods are not all made equal. You can even opt for herringbone patterns. But remember that natural beauty can be marred by the scratches that will happen over time.
Vinyl and laminate are both durable and can offer the look of wood at a reasonable price.
11. Lighting for All Needs
The kitchen should have several layers of lighting. Ambient lighting is excellent for setting the scene; task lighting is needed for performing intricate tasks like cutting veggies. Consider recessed lighting for your main lighting, under-cabinet lighting for tasks, and hanging pendant lights over islands.
12. Should You Install an Island?
If your kitchen has space for an island, make sure you get enough storage and electrical outlets for optimal functionality. An island with plenty of storage will help you cook smarter and provide additional seating for the family. Consider using two heights – one for working and one for eating.
13. Include Technology
Remodeling your kitchen is the perfect opportunity to incorporate technology. There are smart taps with sensors that turn the water off and on when it detects movement. Smart lighting can be controlled remotely or by sensors, much like smart faucets.
14. Give Back!
Before you begin your project, let your contractor know that you would like to donate your removed appliances and cabinets to Habitat for Humanity's ReStore. They make it easy with a free pick-up service.
15. Think of the Little Touches
We've covered so many things you should consider when remodeling your kitchen, but we have to add these tips:
Opt for a knife drawer to keep them away from tiny hands. They are designed with slots and sheaths.
Deep, pull-out drawers can store Tupperware, pots and pans, and glassware.
Don't forget the GFCI outlets and USB sockets in the backsplash on the island.
Go for eco-friendly bamboo mixed with linen and marble. Mix textures to add warmth to your space.
Use all the space you can; corners are great for workspaces, desks, and shelving.
Think sustainability! Choose energy-efficient appliances, recycling and compost bins, and eco-friendly paints and flooring.
Don't forget the windows! They can improve energy efficiency and brighten your kitchen with natural light, especially in small spaces.
Your new kitchen should look like it belongs in the home. So, honor the home's style unless you're trying to make a statement.
16. Set Up Your "In the Meantime" Kitchen
Getting through your kitchen remodel doesn't have to be a challenge. Prepare by setting up the "kitchen" you will use in the meantime. Find a new spot, place a folding table for your countertop, and set up your toaster oven, coffee maker, crock-pot, and microwave.
If you're keeping all your appliances, move your refrigerator and microwave to another room. Put your utensils in a plastic bin. Use another container for your foil, garbage bags, paper plates, and plastic cups.
Stock another bin with plastic cutlery. Make a space for your "pantry" and get canned goods, cereals, and canned veggies. Take to the grill for some meals and eat out when you can with the family.
17. Choose the Right Contractor (or the Right Team)
You need the right contractor on your side for a successful kitchen remodel! Check references and check out their current projects. Look through their portfolio and schedule an in-home consultation. With an experienced contractor on the job, you're sure to make the best choices in materials, products, and design considerations.
When meeting with the contractor, ask questions and try to get a feel for how easy it would be to work with them. Think about the contractor's experience, time in the business, and the work they have done. Get at least three quotes and compare them.
Ken Spears Construction has been helping clients achieve the spaces of their dreams for over three decades. We have a proven home remodeling process that we employ on every project. It all starts with an in-home consultation.
We meet with you in your home to determine how you use your space, vision, and budget. Next, we design your area and meet to discuss the plan and budget. We will present a 3-D plan to allow you to envision the results.
You'll then make your selections for flooring, countertops, and more. We help you make those selections to choose the most durable, high-quality, and budget-friendly options. You'll then get an exact quote for your kitchen remodeling project.
Once we've finalized your project, the construction process begins, and you will receive a timeline. Along the way, we will be there to answer any questions you have. Once your project is complete, we will have a final walk-through and deliver your new space to you. We will leave you to enjoy your space, and you'll have peace of mind with your two-year general warranty.
Take all of these things into consideration when remodeling your kitchen. Set yourself up for success with a solid design plan incorporating style and function with Ken Spears Construction. For over four decades, we've helped families like yours complete their remodeling projects in the DeKalb and Kane Counties. Our local, fully insured, and licensed company only works with qualified and experienced artisans. Take a look at our kitchen remodeling projects and schedule your in-home consultation today!